November 7, 2023
Discount Promo Codes to Increase Limo Bookings – Ground Alliance
by admin

During festive seasons and holidays, everyone appreciates a good deal. Promo codes can be your key to offering clients special discounts and incentives, making your services even more appealing. Ground Alliance provides you with tools that allow you to create promo codes with ease, tailored to your preferences. Now, let's explore how to set up these money-saving promo codes step by step.
- Click on the "
Settings
" button located in the Menu Bar.
- Select the "
Promo Code Setup
" Tab.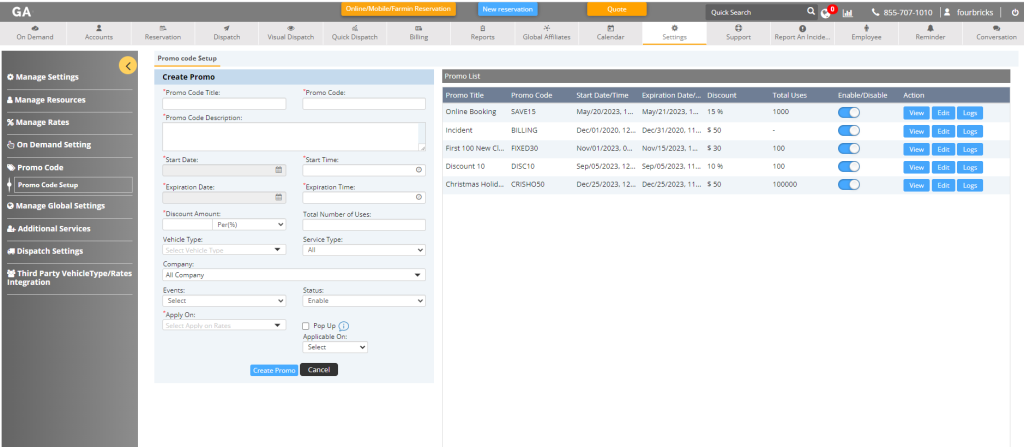 - The "
Settings
" tab will open, showing options for creating a new promotional offer.
- Name your Promo Code in the
"Promo Code Title
" field.
- Specify the Promo Code name in the "
Promo Cod
e" that your clients will use when booking a ride.
- Provide a brief Promo Code description in the "
Promo Code Description
" to inform users about the promotion.
- Select the date and time when the Promo Code will become active and when it will expire.
- Add the discount amount in the "
Discount Amount
" whether it's a fixed amount or a percentage.
- Define the number of times the Promo Code can be used in the "
Total Number of Uses
"
- Select the type of vehicle in the "
Vehicle Type
" for which the Promo Code is applicable, such as Sedan or SUV.
- Specify the service type in the "
Service Type
" to which the promo applies, like Airport Arrival.
- Choose your company in the "
Company
" for which you intend to use this Promo Code.
- Select the event associated with the Promo Code, for example New Party, Festival, New Year, etc.
- Set the status to either "
Enable
" or "
Disable
" to star or stop discount offer according to your preferences.
- Determine the conditions in the "
Apply on
" under which the Promo Code applies, such as per minute, Airport Fee, or Flat rates.
- Select "
Pop-Up
" to offer the promo benefit to all clients, and deselect "
Pop-Up
" to provide the benefit to specific members, such as those in the Member Area, Mobile App, Loginla Portal, etc.
- After reviewing all the settings, click "
Create Promo
".
To explore the full potential of Ground Alliance's customization features and witness the difference it can make in your transportation management, we invite you to "
Read More
" about our software capabilities. Ready to see it in action? "
Book a Demo
" today.