October 22, 2015
Ground Alliance Publicizing it`s all Features in Live Demo at LCT-NLA Show East!
by admin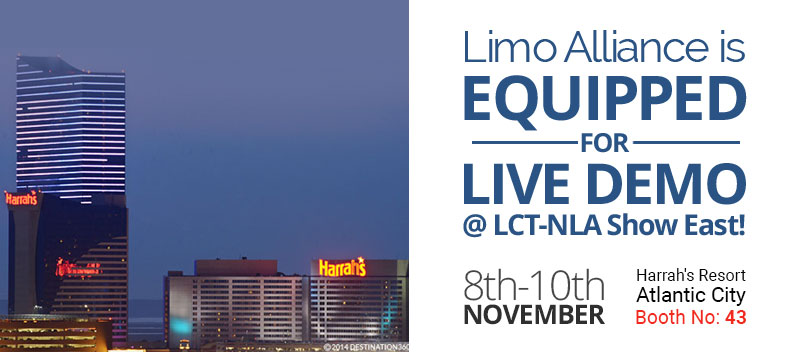 "
After the successful launch of Ground Alliance in Miami we are heading to LCT-NLA Show East in Atlantic City
" the pronouncement made by the President of Ground Alliance. Our
Limo Management Software
put forward a mobile application that is entrenched with all "ON THE GO" features for travel operators, chauffeurs, and passengers. Considering the fact that collaborating with new software management is pretty daunting for any travel corporation. With the concern of clearing all doubts, Ground Alliance is publicizing its Live Demo at LCT-NLA Show East!
---
Due to the world's increasing dependability on mobile, it is very obvious that mobile applications combined with the expediency of ground transportation services will revolutionize and transform the working procedure of the livery industry. Ground Alliance brought advanced passenger Apps with On Demand Services available and chauffeur apps to manage current as well as future jobs.
---
Ground Alliance the new breed of transportation technology is fully ready to give a Live Demo of all the features in the Atlantic City on the LCT-NLA Show.
---
Learn how superior back-end office systems are.
---
How Responsive Mobile Apps will benefit Limousine and Chauffeured Transportation Companies.
---
Learn how operators get access to each other's inventory in real time with Ground Alliance.
---
How this Limo Operating System will distinctively tailor the Web Portal customized with the transportation company name and logo.
---
Find out about all the features and functionalities of Ground Alliance in the Live Demo moreover, register yourself at (
Free Demo
) to avail free trial.
---
Using the most advanced features like Quick Dispatch, On-Demand Global Affiliation, Payment Management Module, Manage accounts, and Absolute reservation management program, Ground Alliance's multiple functionalities will ensure limousine operators thrive.
---
Ground Alliance's Additional Features are:
---
Handling accounts, invoices, and payments.
---
---
Communicating with and easily tracking drivers.
---
Ride now and ride later functionality.
---
---
Auto updates when chauffeur's permits are expiring.
---
Auto reminders when registration and insurance are expiring
---
Ground Alliance software facilitates travel operators to deal with affiliates in a complete transparency manner. Our software will also ensure passenger safety and reduce liability. Ground Alliance put great efforts to make tailored web portals as well as mobile apps for chauffeurs, travel operators, and passengers.
---