July 19, 2023
The Best Limousine Software for Fleet Management
by admin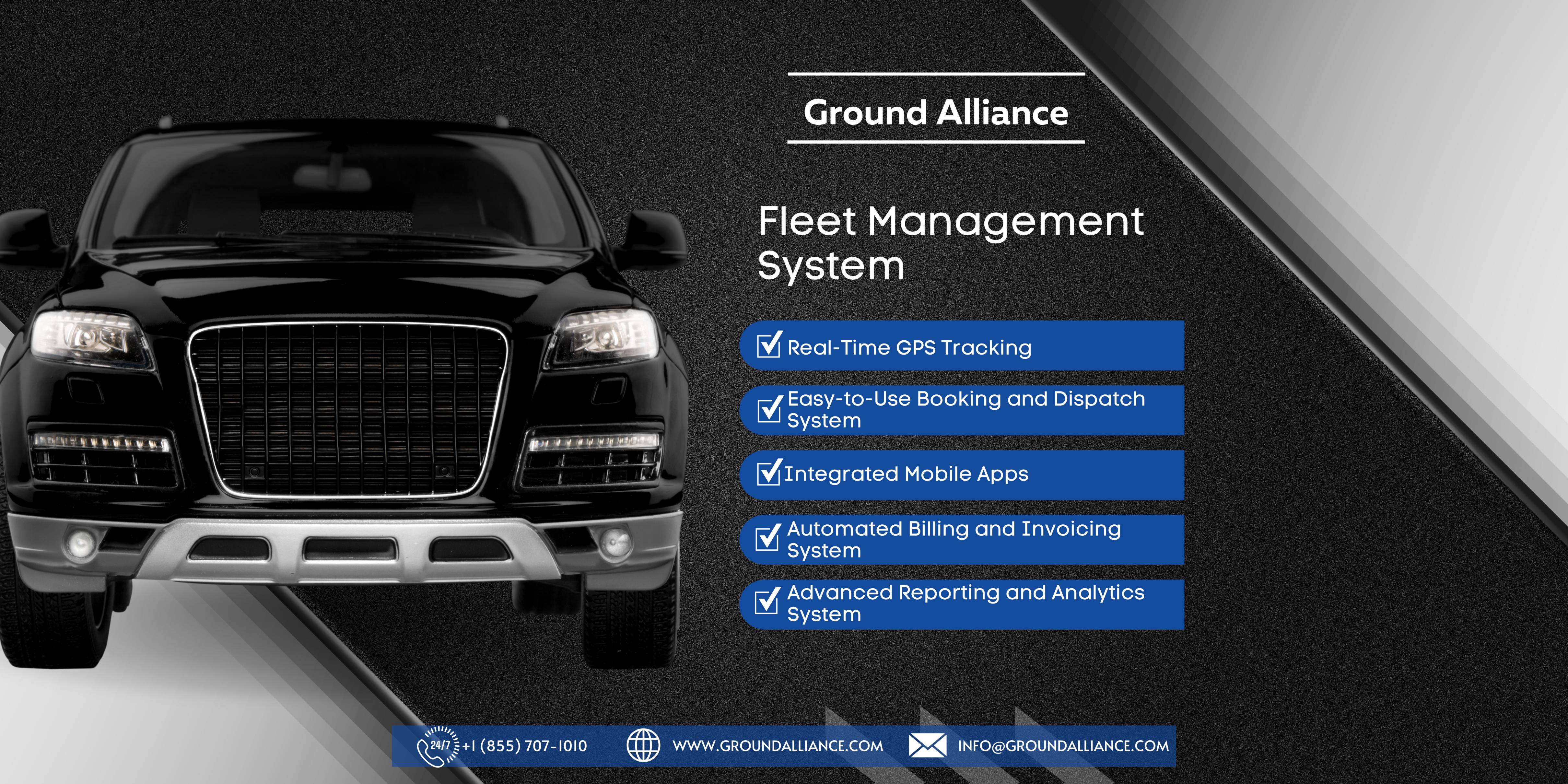 In the fast-changing transportation needs, efficient fleet management is critical for ensuring seamless operations and superior customer satisfaction. In this competitive market, limousine companies must ensure cutting-edge limousine software in their work system to stay ahead of the their competition.
Among the top contenders in the ground transportation market, Ground Alliance stands out as a leading platform that revolutionizes fleet management. In this article, we'll delve into the features and benefits of Ground Alliance, demonstrating why it is the best limousine software for streamlining your fleet management.
Comprehensive Fleet Management System
Ground Alliance offers a comprehensive suite of tools tailored to the specific needs of limousine operators. From booking management to real-time GPS tracking, the platform covers all aspects of fleet management in one centralized system. By utilizing Ground Alliance, you can optimize your fleet's performance, minimize downtime, and enhance overall efficiency.
Easy-to-Use Booking and Dispatch System
One of the key features that sets Ground Alliance apart is its user-friendly booking and dispatch system. With a straightforward interface, your staff can effortlessly manage reservations, track vehicle availability, and assign trips to drivers. The automated dispatch feature considers factors such as driver location, vehicle type, and customer preferences, ensuring faster response times and improved customer experience.
Real-Time GPS Tracking
Ground Alliance's real-time GPS tracking feature allows you to monitor the exact location of your vehicles at any given moment. This not only enables precise ETAs for clients but also assists in optimizing routes to reduce travel time and fuel consumption. With access to live tracking data, you can respond quickly to any unforeseen circumstances, such as traffic congestion or route changes, ensuring a seamless and punctual service.
Integrated Mobile Apps
Ground Alliance offers integrated mobile apps for both drivers and passengers, enhancing the overall experience for both parties. Passengers can effortlessly book rides, view driver details, and track their ride in real-time using the passenger app. On the other hand, the driver app streamlines communication, providing drivers with instant trip notifications, navigation assistance, and fare management tools.
Customer Relationship Management System
A successful limousine service relies heavily on building and maintaining strong customer relationships. Ground Alliance's built-in CRM capabilities help you manage customer data, preferences, and history efficiently. This information empowers your team to personalize services, anticipate customer needs, and provide a more tailored and memorable experience to clients.
Automated Billing and Invoicing System
Ground Alliance simplifies the billing process through automated invoicing and payment systems. By generating accurate and detailed invoices automatically, you can significantly reduce administrative overhead, save time and streamline your financial operations. Moreover, the platform offers multiple payment gateways to their business partners, making it convenient for their customers to pay securely using their preferred methods.
Advanced Reporting and Analytics System
Ground Alliance equips you with powerful reporting and analytics tools to gain valuable insights into your fleet's performance and overall business operations. With comprehensive data on ride statistics, revenue, expenses, and customer feedback, you can make data-driven decisions to optimize your business strategies and improve overall efficiency.
Multiple Payment Gateways
Ground Alliance offers integration with various payment gateways, allowing your customers to choose from a range of payment options that suit their preferences. Whether it's credit/debit cards, mobile wallets, or other digital payment methods, the platform ensures secure and smooth transactions, enhancing customer satisfaction.
Secure Payment Processing
With Ground Alliance, you can rest assured that all payment transactions are processed securely. The software employs robust encryption protocols and complies with industry-standard security measures to safeguard sensitive financial data. This not only protects your customers but also builds trust and credibility for your limousine service.
Transparent Pricing
Ground Alliance allows you to set up transparent pricing structures for your services. You can define standard rates, additional charges for specific services, and any applicable taxes. By presenting clear pricing information to customers at the time of booking, you promote transparency and avoid disputes later on.
Quick and Effortless Payment Settlements
Payment integration in Ground Alliance doesn't end with passenger payments; it also includes driver payouts. The platform simplifies driver settlements by providing a secure and efficient system for compensating your drivers. By automating this process, you reduce administrative overhead and ensure timely payments, keeping your drivers motivated and satisfied.
Conclusion
Ground Alliance offers an all-in-one solution that streamlines your operations, enhances customer experience, and boosts overall profitability. From efficient booking and dispatch to real-time GPS tracking and advanced analytics, this limousine software has everything you need to manage your fleet effectively. Read Best Limousine Software 2022 to learn how technology keep changing with time.
By adopting Ground Alliance, you'll not only improve your day-to-day operations but also strengthen your position as a reliable and customer-focused limousine service provider. Learn things to know before buying any limo booking software. Embrace the power of technology with Ground Alliance and take your fleet management to new heights.